If you're a small business owner, you know how important it is to establish a strong online presence. So you've probably explored the world of online marketing, considered starting a blog, researched SEO strategies for hours, and maybe even taken one of those online marketing courses for small businesses that you saw all over social media that promise to turn you into a master marketer in a day.
Soon, you find yourself spending countless hours a day doing keyword research and meticulously crafting content. When reality sets in, you may start to wonder: Should I hire a content writer? The answer is usually yes!
Why Hire a Content Writer?
To outsource, or to DIY.. that is the question. While content creation may seem like something small business owners can take on themselves, there's a multitude of reasons hiring a quality writer can help level up your content game!
Hiring an experienced content writer can save you time, keep high-quality content rolling in consistently, and ultimately help your brand find its unique voice.
Here are 8 reasons to hire a professional wordsmith as part of your content team!
Your Time is Valuable
Think about it – do you really have the time to sit down and craft content that resonates with your target audience, edit it, and post it? Probably not.
Your to-do list as a small business owner is never-ending, and it's tough to find the time to focus on everything that needs your attention. But putting out consistent content is key in order to boost your SEO.
If you hire a professional content writer, you can delegate mundane writing tasks so you can focus on what you do best – running your business.
There's More to It Than You Think
Blogs and email campaigns are great ways to bring traffic to your site and increase revenue. But there's nothing worse than spending all that time writing blog posts and newsletters that no one will see.
To get your online content noticed, it takes a wide range of skills beyond just writing. You need to have a content strategy in place, conduct keyword research so that you know what you should be writing about, and then optimize the articles.
A skilled writer will know a thing or two about search engine optimization strategies. They'll know all about relevant keywords and how to cleverly format your posts, giving you the best shot at ranking on that coveted first page of the SERP.
They'll also take an active interest in understanding your business, audience, and goals, ensuring you get valuable content.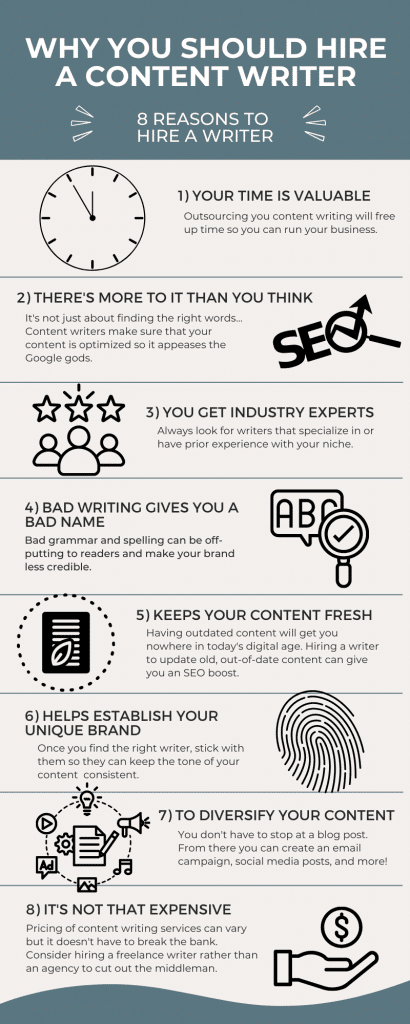 You Get Industry Experts
There are thousands of content writers out there. Look for expert writers in your niche or industry or someone that has some kind of connection to what you do. This will ensure your content is accurate and informative and will establish your brand as an authority in your industry.
You can also assign subject matter experts within your company to be available to the writer for guidance on certain topics, or to explain how your company handles something specific so they can accurately reflect that in the content.
Bad Writing Gives You a Bad Name
Bad writing can do damage to a business's reputation. Nothing turns potential customers away faster than poorly written content that is filled with grammar mistakes and lacks cohesiveness.
Hiring a professional content writer can help avoid the negative impact of bad writing. They understand the importance of using correct grammar and punctuation, as well as engaging and persuasive language, to effectively communicate your message.
If you have a preference for a particular style guide like AP style or Chicago Style, check if they have experience with that style. If you don't have one in mind, you can work with your content writer to create a brand-specific style guide that aligns with your vision.
Keeps Your Content Fresh
Search engines love new and fresh content and regularly updated blogs help increase your website's visibility in search results.
Writers can also help make sure each piece of content is up-to-date with accurate information so that customers reading your content know they can trust your brand.
But again, consistently creating high-quality and engaging blog posts can be time-consuming and challenging if you're busy running a business so it's time to delegate to the experts.
Helps Establish Your Unique Brand
Just like consistency is important for SEO, consistency is also important for establishing a strong brand identity.
You want to establish the right tone, language, and visuals to convey your message effectively, and then keep that consistent across all your content.
Hiring a dedicated writer can make sure that all stays consistent. They become the guardians of your brand's voice, ensuring that every piece of content reflects your unique identity and values.
To Diversify Your Content
The beauty of having a well-written blog post is that it becomes the backbone of your content marketing strategy.
You can hire a writer to write your blog posts, and then once you have those blog posts in hand, you can repackage the valuable information within it to create other types of content allowing you to engage with your audience on multiple levels.
For example, if you hire a freelancer to write a blog post about the 10 Best Cities In Spain, you now have a list of 10 cities that would make ten perfect Instagram posts. Or share interesting facts, trivia, or even quick tips about each city on Twitter, Facebook, and LinkedIn.
You can also adapt the content from the blog post for your email marketing campaigns. Craft a series of engaging newsletters, each one dedicated to showcasing one of the ten cities. And for that, you can once again turn to your content writer.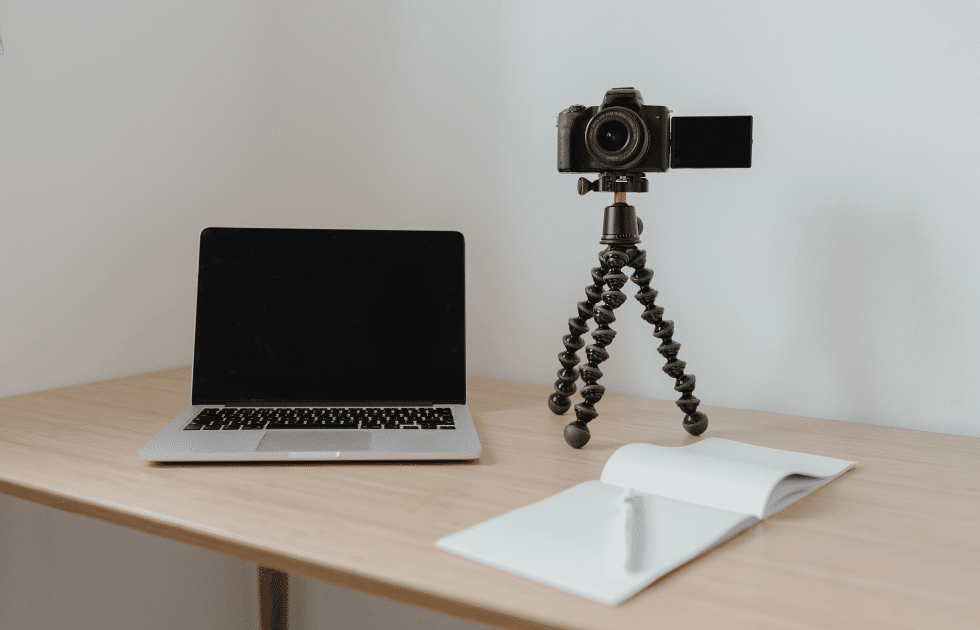 It's Not That Expensive
You may be thinking there is no way you can afford to hire a professional writer. But the truth is, compared to hiring a full-time writer, outsourcing to freelance content writers can actually be the cost-effective choice.
If you're on a budget, or simply prefer to work more closely with someone, consider opting for a freelance writer over a content marketing agency. This will cut out the middleman and get the most bang for your buck.
Freelance writers often charge on a per-word basis. So instead of shelling out for an in-house writer's full-time salary, you're paying only for the work they produce. That not only makes it easier to manage your content creation expenses but also helps you maintain a consistent flow of content in line with your content calendar.
Plus, experienced writers understand the ins and outs of search engine optimization (SEO). They can optimize your content to enhance your search engine rankings, which means your content becomes more discoverable to potential clients. This translates to increased traffic, greater visibility, and ultimately, more conversions.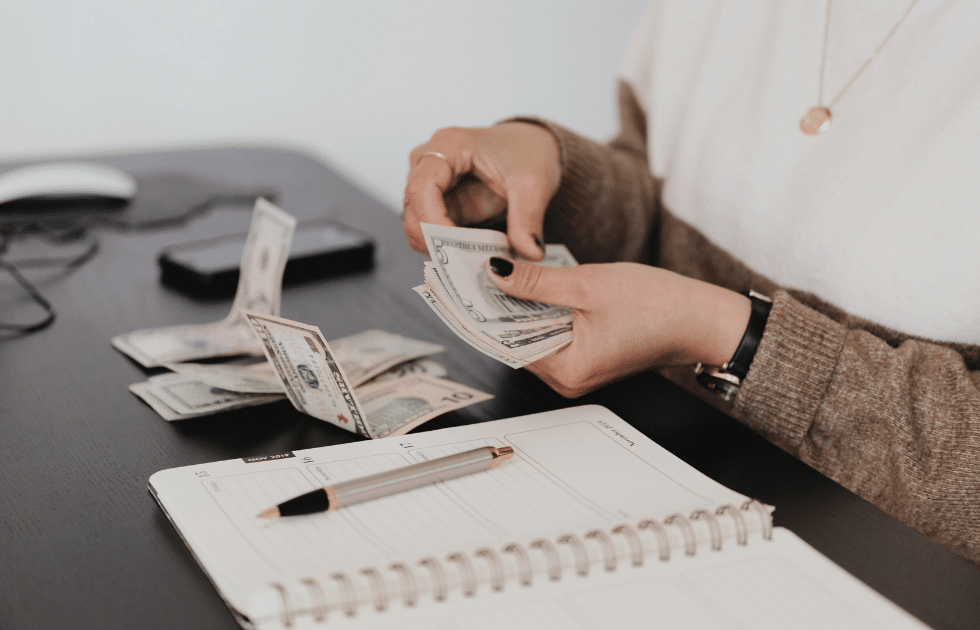 How to Find the Perfect Content Writer
The perfect writer for your business is ultimately someone who connects with you and your brand. But there are a few things to look out for when hiring a writer that separate the entry-level writers from the experts.
Make sure they know SEO: Even if you have someone else on your internal team doing the keyword research, SEO writing is important and your writer should be capable of optimizing the article so that your content isn't aimlessly being published.
Look for niche expertise: Some industries require more technical writers than others. And while you can assign an SME, it's always nice to have a writer who knows a thing or two about what you offer.
Communication is key: Clear communication is the secret sauce to successful collaborations. A writer who's responsive, open to feedback, and keeps the lines of communication flowing can make your life a lot easier.
Ask for samples of their work: Most writers should be able to provide you with a portfolio of their work so you can get an idea of their writing style and tone and decide if it matches what you are looking for for your brand. If you have a specific editing style you would like to use, like AP style or Chicago style, ask if they have experience with it.
Ask for References and Reviews: Don't be shy to ask for references or check reviews from previous clients. This can give you insights into a writer's professionalism and working style.
The Bottom Line
So, should you hire a content writer? The bottom line is, if you want to increase organic traffic to your company's website, you should be putting out consistent, targeted content with a solid content strategy in place. If you are not an expert in content marketing yourself and don't have the time to become one, you'll need a team to help you execute that plan.
That's when it's time to hire professional content writing services. Your brand will thank you for it!
Frequently Asked Questions
Should I hire a content writer for social media content?
Your social media accounts need consistency too. It's important to keep your message consistent in the captions and posts on all your different social media channels and hiring content writing services can help you with that.
How much do blog writers charge?
Blog writers' fees can vary quite a bit based on several factors like experience in writing, expertise in your niche, the complexity of the project, or added services like SEO. At Molina Writing Co., we charge a standard $.10 per word.
What to look for when hiring a content writer?
Finding the right content writer is like discovering the perfect puzzle piece for your brand. Take your time, do your research, and ask questions. Here are a few key pointers to watch for:
Make sure they are knowledgeable about your niche, they are familiar with the latest SEO strategies, and they are good communicators. This will make your life much easier throughout the entire process.
Also, don't forget to ask for samples of their work and for references and reviews. This can give you insights into a writer's professionalism and working style before you hire them.
How do I hire a content writer?
Content agencies have a large pool of writers that are able to write in many different niches which may be convenient for businesses that are looking for a variety of content.
On the other hand, if you want a more direct and personalized approach, you can search for freelance writers. Platforms like Upwork and Fiverr can connect you directly with skilled wordsmiths who can deliver your content needs.
What is a good hourly rate for a freelance writer?
Freelance writers can charge anywhere from $15 to $100 per hour depending on their level of experience and expertise in the subject. Many writers charge based on the project, or per word.